Not just a fad: New Zealand's latest tiling trends
Whole-home tiling, large-format tiles - these are the kinds of ideas that are taking New Zealand's tiling world by storm, says Tile Warehouse director Neville Colbert.
Words by Nick Forrester | ARCHIPRO
In the architecture and design industries, conversations about the best fittings to use, the best cladding, style of furniture, appliances – all are dominated by debates over their quality, price, and longevity, amongst others. But equally important, arguably, is whether or not these materials or products are part of a 'trend' in their respective areas.
Trends have been an important factor in the rise and fall of materials and products throughout the decades when it comes to building and decorating. And they are especially evident in important construction elements that are often the 'foundation' of every build – cladding, roofing, and flooring being primary cases.
Flooring in particular has a rich history of highs and lowly-esteemed styles throughout the years, and as one of New Zealand's largest importers of tile flooring, Tile Warehouse knows first-hand how the industry has changed.
Whole-home tiling
One of these trends, says the company's director Neville Colbert, is the idea of 'whole-home tiling' – a form of 'continual flooring', where one product is used throughout either the entirety or the majority of the house.
"The floor is the most heavily-abraded, hardest working part of the house," says Neville. "It's constantly being walked on, you've got abrasions, dirt, dust, water, and mud to think about. So what the Europeans are doing, which is making its way over here, is they're specifying a single flooring option throughout the whole home that can deal with all of these issues.
"Tile is the only flooring suitable for all areas of the home from the point of entry through living spaces, wet area rooms and into the outdoors."
Neville says the whole-home flooring trend is all about simplicity of design, as well as continuity. It offers uniformity and an order to the aesthetic, decluttering the flooring surface – as opposed to the often jarring shifts from different floor formats present in many houses in New Zealand.
"This 'flow' from tiles to carpet is quickly becoming a design of the past," Neville says. "When considering design and end-look, it's difficult to match these two finishes and create flow."
There are real benefits to sticking to a single solution, he says.
"It really does add a simplicity, and when you talk to architects a lot of them are starting to lean into this – excepting perhaps rooms where you want a bit more softness, such as bedrooms."
It also lends itself to New Zealanders' keen passion for indoor-outdoor flow. As a nation largely in a love affair with the outdoors, many architects and indeed homeowners want to accommodate this love by building decks, balconies, patios, and other exterior spaces that almost resemble an additional room.
For this reason, Tile Warehouse offers specific tiles with inside-outside finishes. "These tiles have higher slip resistance in outdoor and wetroom applications, which then transition to the standard tile when in living areas – but the key is, it all looks monolithic and linear."
Neville also says that the hardiness and durability of tiles can also translate to less maintenance and repairs during its lifetime - reducing the lifecycle cost of the product.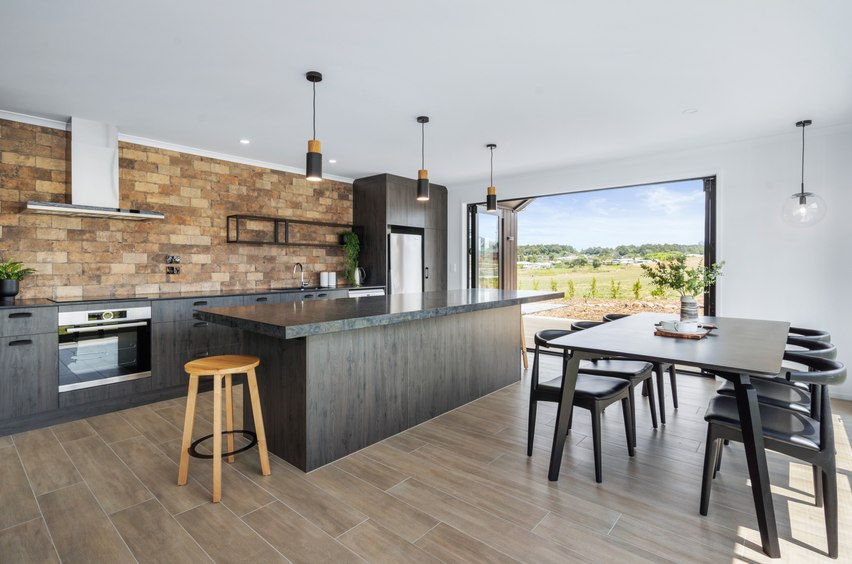 Large format tiles
Another perhaps more widely-known trend in the flooring industry is the proliferation of large-format tiles. Aesthetically, oversized tiles can minimise grout lines, create bold statements, help to create more monolithic looks, and they're generally better at conforming to a larger design concept.
In many ways, they're also much more practical, Neville says.
"Tiling in living areas and open spaces costs significantly less than smaller, more complicated areas such as bathrooms. Contemporary designs tend to focus on open flow, simplicity, form and function – and larger tiles tend to do well in this regard."
In addition to the attractiveness of larger tiles themselves, their size also means there is much less unsightly grouting. This not only bolsters the aesthetic of a space, but also means installation is much more efficient, too.
For these reasons and more, Neville says the large-format trend – a mainstay in the industry for a number of years now – is likely here to stay.
"New popular sizes are 1200X2400mm, 600x1200mm, 450x900mm, 800x800 and 1000x1000 – however larger slabs of up to 3000mm are making an appearance and proving popular for all living areas throughout the home."
Timber-look tiles
Another major trend is wood-look tiles, that offer both the natural look of timber as well as functionality.
"Timber has long been a coveted look for floors by Kiwis, but has the added worry of damage from pets, high heels, and scratches from sharp objects, along with fading and water absorption issues," says Neville. "It is also a product that requires regular maintenance.
"Designed to be a modern take eradicating the need for repair and maintenance, the timber-tile trend has inspired a variety of looks with a range of plank sizes, colours and finishes."
Tile Warehouse says the combination of style and ease alongside changes in the recent building code pertaining to wet areas have made timber-look tiles incredibly popular for residential home owners, public spaces and multi-residential projects.
Besides the changing trends and evolving styles of tile flooring in New Zealand, Neville says the idea of tiles is timeless, transcending fleeting fads.
"The most important thing is that flooring is durable, long-lasting and suitable for the entire home," he says. "In a time where a lot of houses are being built to minimum standard with an associated cost to longevity, people should really be thinking about solutions that guarantee to remain in good condition for decades to come.
"We make a point of helping customers make good long term choices throughout the home on the merits of what will perform best in high sun areas, wet areas, highly abrasive homes with pets - so we would recommend having a discussion on flooring very early in the build process to ensure you get balanced advice on what best meets your needs."
If you would like to discuss your project further, we can assist.
Contact one of our 32 Stores or discuss with one of our Commercial Representatives.
Tile Warehouse - Making Design & Selection Easy - from the Floor up!